Open to anyone, the Saturday Courses are an excellent way of gaining more than would normally be offered in church on Sunday whilst being less demanding than a full-time theological course.
One Saturday a month, from September through to April, three lectures are delivered by visiting speakers. These lectures, which are also available to access online, are specially designed to stretch the Christian mind and deepen an understanding of God's word. The course content covers Biblical Studies, Practical Theology, Christian Discipleship and Christian Doctrine.
Who is the Saturday Course for?
The Saturday Courses, which may be completed with or without essays, are of great benefit to anyone who has a longing to dig deeper into the gospel. 
They are also intended for office-bearers – to encourage them to learn how to approach theological, biblical, historical and pastoral issues and thus to develop a greater study of the word of God.
No prior qualifications are necessary – everyone is welcome.
The following awards are available in these courses:
To qualify for a Certificate in Theology, the student is required to submit six essays (normally up to three essays each year).
Diploma in Christian Studies
This is a further course for those who have already gained their Certificate in Theology. To qualify for the Diploma in Christian Studies, the student is required to submit a further six essays (normally up to three essays each year).
And it does not stop there: for every six essays thereafter, a Diploma in Further Christian Studies will be awarded. Indeed, we have people who have been doing the course for 19 years!
When will the lectures take place?
In 2023/2024, the lectures will be delivered one Saturday a month on the following dates:

2023: 16 September, 7 October, 4 November, 9 December
2024: 13 January, 10 February, 16 March, 20 April
The lectures will be delivered from the Chalmers Hall at ETS from 10am to 3.15pm.
Classes at venues other than Edinburgh and Stornoway will make their own arrangements for meeting.
Watch this video, where John Angus MacLeod and Saturday Course student Megan Gray explain to prospective students what the Saturday courses involve.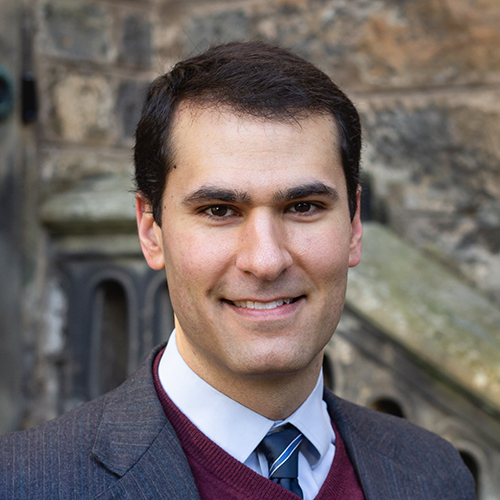 Interpreting Scripture: How to Read, Understand, and Apply the Bible
Christians are people of the Book. We believe that the Scriptures of the Old and New Testaments are 'living and active' (Heb 4:12), able to make us 'wise unto salvation' (2 Tim 3:15), and teach us 'what man is to believe concerning God, and what duty God requires of man' (WSC 3). As a result, nothing matters more than knowing how to read the Bible well. Becoming a better interpreter of Scripture will not only help our personal Bible study, but will also benefit our small groups and churches as we grow in our ability to build up one another with the Word.
Bored at Church? What Happens When God Calls His People to Worship
Why are we bored at church? Do we get out of it what we put in? Do we have to settle for either dull routine or perpetual innovation? This lecture series examine biblical and theological foundations of worship to better understand who we are, what happens when we gather together, and how God draws us in as participants in the drama of redemption.
"Dour Presbyterians?" What you need to know about the church in Scotland
The church in Scotland has a particularly fascinating history involving equally fascinating people. Who was John Knox and why was the Reformation in Scotland so momentous? How did the fledgling Protestant church develop? What were the influences and who were the people that shaped the church, creating what we know as Scottish Presbyterianism? Who were the Covenanters and how do we best understand the conflict that cost so many their lives? Who were the missionaries sent to other countries in the 18th century? What was the Disruption in 1843 all about? Why are there so many denominations in Scotland today? 
This course will trace the history of the church from the Reformation up to the present time. We'll explore the various events, people and issues that make the Scottish church what it is today.
"The Saturday Courses have been a fantastic learning experience for me, both academically and spiritually. I love how topics which I would have previously found a bit daunting have been brought to life and applied. I'd recommend it to every Christian!"
Suzanne Lowery
South Queensferry
"We appreciate the high quality of the teaching, the breadth and variety of the material covered and the passion, experience and enthusiasm of the lecturers. And we enjoy the fellowship with other participants of all ages and different backgrounds, nationalities and denominations. Although we prefer to attend live lectures, the ability to catch up online either by live video or archive viewing means we don't miss any of them. When we attended our first lecture in 2008 we didn't think we'd still be signing up for more in 2020! But with new course material and varied lecturers each year it really is an amazing resource and we encourage you to give it a try."
Fiona and Mike Bowman
Aberdeen
"After a day at the Saturday Course I'm usually buzzing from all I've learned. Before starting the course, I was a bit nervous as to how I'd cope as I have a more creative mind and haven't written an essay in decades! However the lectures are at a good level, and the environment at ETS is very encouraging. The course is full of people from different ages and backgrounds but we are all interested in getting to grips with the Bible and it's theology better. The lecturers are approachable and passionate about what they teach. I'm thankful this course exists!"
Rebecca Mackay
Perth